Read Bio
Kayleigh Reimer is a soprano, choral musician, and music educator from Tacoma, Washington. She has performed in numerous choral ensembles, including the Symphony Tacoma Voices, the St. Olaf Choir, Seattle Pro Musica, and most recently joined SoundCity Singers for their inaugural season. Kayleigh has performed in numerous recitals in collaboration with new composers and was most recently featured as a soloist with the St. Olaf Orchestra. Kayleigh holds a Bachelor of Music degree in Music Education from St. Olaf College and currently teaches choir and orchestra at Mountain View Middle School in Bremerton, Washington.
Read Bio
A native of Mexico, Priscilla Salisbury has been sweeping the nation with her shimmering voice and stage presence. She has performed the roles of Zerlina, Don Giovanni, Cupid, Orpheus in The Underworld, Carmela, The Saint of Bleecker Street, Zerbinetta, Ariadne auf Naxos, Constance, Dialogues des Carmelites. Her opera premieres include, Mrs. O'Malley, It's a Wonderful Life (Houston Grand Opera), Francine, Monkey and Francine in the City of Tigers, (Houston Grand Opera Co.), Lucinda, Lucinda y las Flores de la Nochebuena, (Opera in the Heights), Cinderella, Cinderella in Spain (Seattle Opera). This year she will be premiering the title role in Earth to Kenzie (Seattle Opera).
Ms. Salisbury has participated as a Young Artist in Houston Grand Opera Co.'s Storybook Opera, Create an Opera and Opera to go! Austin Opera's Opera Treasure and La Noche de Opera and Seattle Opera Guild's Preview Nights. She has also been a Young Artist in Opera in the Ozarks and CoOperative, where she coached with Pierre Vallet and Amy Hutchison.
At the early age of nineteen, Ms. Salisbury signed a contract with Universal Records for the televised competition, Objetivo Fama in Puerto Rico. An album was released following the competition and she received recognition for her work, from the Mayor and Governor of Puerto Rico. Some of her television appearances include Despierta America and Objetivo Fama Sin Editar.
Ms. Salisbury holds a Bachelor's Degree in Vocal Performance from The Moores School of Music at The University of Houston and a minor in Italian Studies. She received her Master's Degree in Opera Performance from the Butler School of Music at The University of Texas at Austin. Ms. Salisbury's accomplishments include winner of the Master Works Competition, recipient of the Ugo di Portanova Scholarship; a summer study in Siena, Italy at the Univesitá per Stranieri di Siena. And she received "The Encouragement Award" from the Seattle Opera Guild Competition.
Read Bio
Michael is an active choral performer in the Seattle area. In addition to SoundCity, he has performed with Byrd Ensemble, Radiance, Choral Arts Northwest, Pacific Musicworks, Cantare Vocal Ensemble, St. James Cantorei, and UW Chamber Singers. He is also a staff musician at Saint Mark's Cathedral, where he sings in the Schola and Evensong choirs, along with the weekly radio broadcast as a member of the Compline Choir. Michael also works regularly as a conductor, pianist, and music educator. He holds music degrees from New York University and Westminster Choir College, is currently working on a PhD in music history at the University of Washington.
Read Bio
Benjamin Rogers is the choir director at Liberty Middle School. Benjamin grew up in Savanna, IL, and recently acquired his Bachelors of Music from Western Illinois University. He also serves as the choral director and praise team leader at the First Presbyterian Church of Puyallup, WA. Benjamin also performs as a vocalist of the SoundCity Singers, a professional choir based in the Seattle Area. In his free time, Benjamin enjoys hiking the local trails, playing Pokemon Go, and spending time with his beloved cat, Daphne.
Read Bio
Born and raised in Central Louisiana, Benjamin started singing and acting when in junior high. He holds a Bachelor of Music from Louisiana College. While there, he performed numerous roles with Louisiana College Opera Theater and Theater Louisiana College. In 2014, Benjamin moved to Colorado where he performed with Seicento Baroque Ensemble and Opera Colorado as a chorus member in Verdi's Falstaff. After moving to Bellingham 2018, Benjamin became involved in the local theater community very quickly. Recent productions include Mamma Mia! and Pray the Gay Away with Theater Arts Guild of Mount Vernon.
Artistic Director and Founder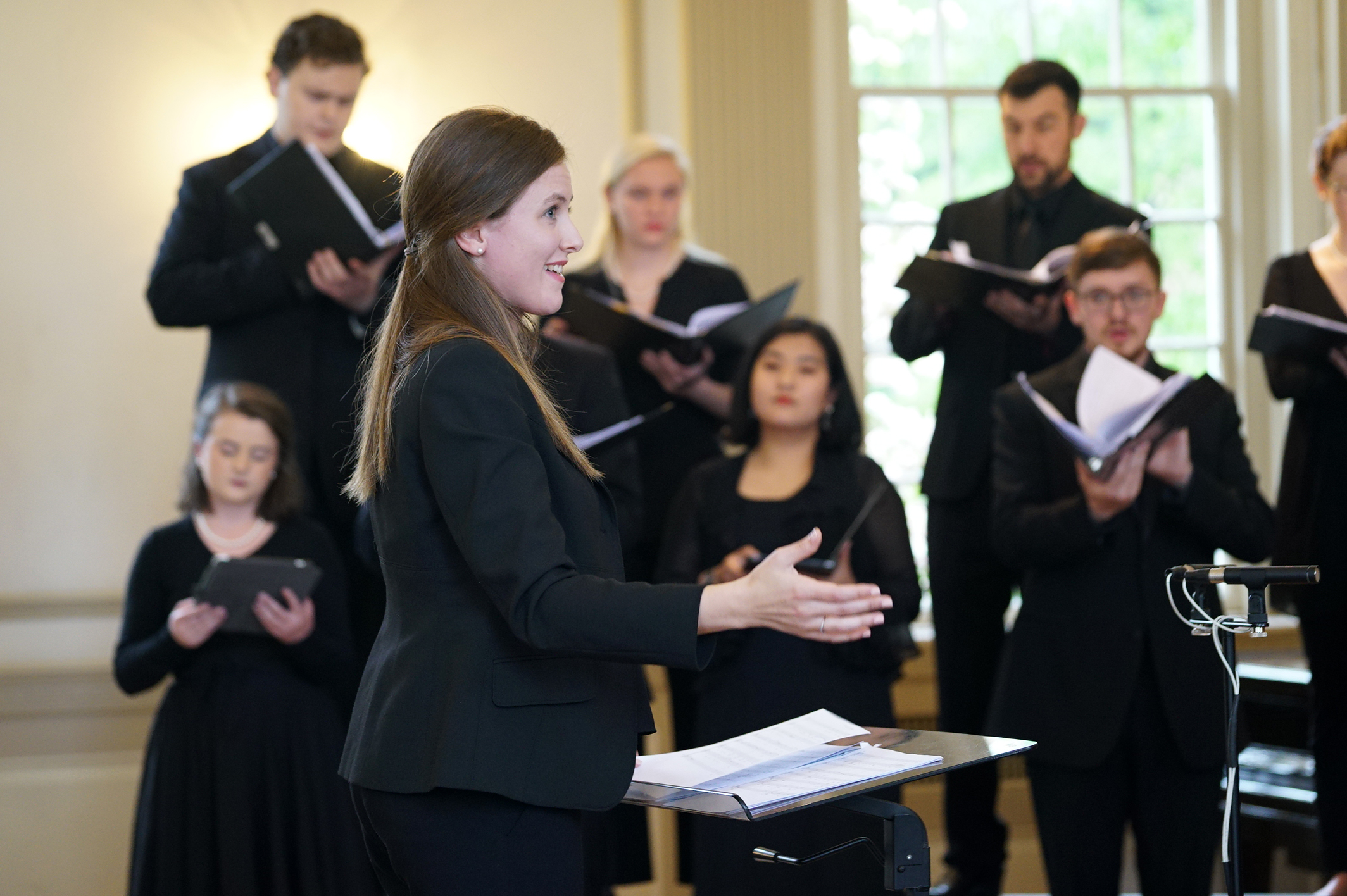 Fun Facts
Johanna is a musician who dreads going to concerts. She can't sit still and has dedicated her life to making classical music more fun and interactive for audiences. She's passionate about paying singers and helping local businesses and couldn't be more excited to be doing both on the West Coast.
Formal Bio
In addition to her role as Artistic Director for the Seattle-based professional choir, SoundCity Singers, Johanna is Manager of Creative Projects at the Seattle Symphony where she oversees the immersive, multi-media performance venue, Octave 9 as a member of the artistic planning team. Johanna also serves as Social Media Director for the non-profit, Girls Who Conduct. 
In 2018 and 2019, Berkshire Choral International named Johanna the Robbins/Wolff Overseas Conducting Apprentice where she assisted in preparing Dvorak's Stabat Mater and Puccini's Messa di Gloria. As a conducting apprentice and chorister at the Bach Choral Course, she performed with the Kellie Consort and in masterclasses by John Butt and Andrew Parrott. Additional positions include Children's Choir Director at Christ Church New York City and secondary choral music teacher in Manassas, VA where she received recognition as New Teacher of the Year and Apple Award winner for her ensembles consistent superior ratings at state adjudication. Johanna served as the Graduate Assistant Conductor and section leader of Kantorei, the early music ensemble at Westminster Choir College under the tutelage of Dr. Amanda Quist and Dr. Ryan Brandau.
As a choral singer, Johanna performed at the 2018 and 2019 Spoleto Festival including the first fully staged version of Joby Talbot's Path of Miracles. She also appeared on the Westminster Choir recording of the Frank Martin "Mass for Double Choir"and performed various masterworks with the Philadelphia Orchestra, New York Philharmonic and Orchestra of St. Luke's as a section leader of the Westminster Symphonic Choir under Dr. Joe Miller. Johanna holds a Masters in Choral Conducting from Westminster Choir College and a Bachelor of Music in Choral Music Education from Concordia College in Moorhead, MN where she served as section leader of The Concordia Choir.